SecureMyScholarship helps Indian students get scholarships to study abroad in top universities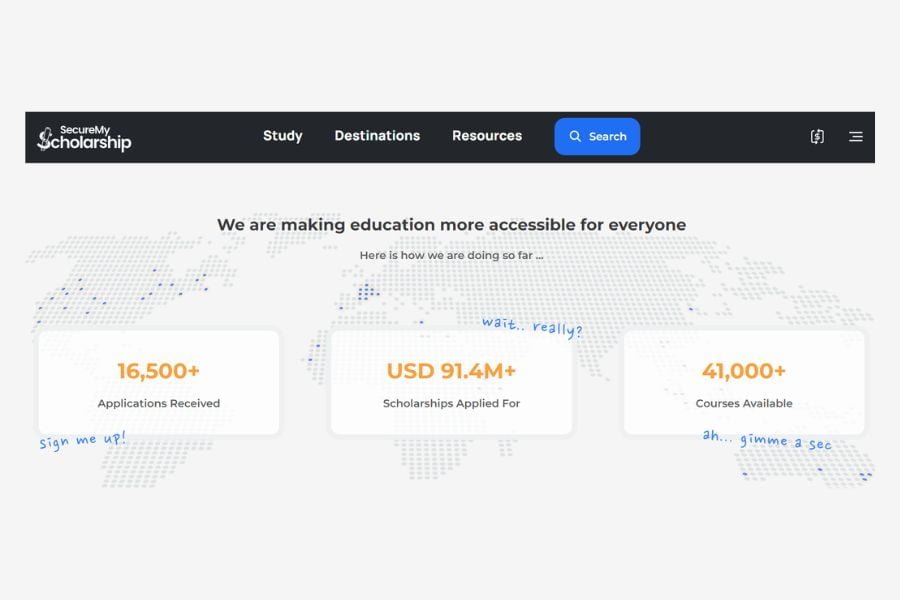 New Delhi (India), February 17: As tuition costs at the world's best universities continue to rise, it is more important than ever for Indian students to find ways to fund their education abroad. A Dubai-based ed-tech startup wants to solve this problem.
SecureMyScholarship facilitates students' pursuit of their study abroad dreams by introducing them to colleges and universities that provide guaranteed fee waivers and scholarships, thus reducing the tuition burden as much as possible. Scholarships are essential for many students because they cover not only tuition but also living costs and other costs associated with studying abroad. Through the platform, students have received as much as 30 to 50% off on their university tuition fees, and securing assistance through SecureMyScholarship.com is completely free for all students. According to co-founder and CEO Craig Fernandes, SecureMyScholarship's mission is to make education accessible and affordable for all students.
The United Arab Emirates, the United States, Canada, and the United Kingdom are home to some of the top universities in the world, and SecureMyScholarship helps students connect with full or partial tuition waivers at institutions based in these countries. This initiative seeks to remove financial and social barriers to higher education so that talented young people from all backgrounds can benefit from it.
To begin, there is the issue of generally higher tuition fees for international students compared to domestic students. Furthermore, in countries like the United Arab Emirates, the United States and Canada, living expenses can be quite high, especially in larger urban areas. Travel, health insurance, visa fees, and other miscellaneous expenses can also add up quickly for students studying abroad. However, although there is a greater outlay of funds to study abroad, the benefits far outweigh the costs in the long run. These include higher quality education, better job prospects, and a richer cultural experience.
Based in Dubai, SecureMyScholarship is already the largest education marketplace in the United Arab Emirates and works with nearly all major universities in the country. "I have been working with SecureMyScholarship from when they were a small startup, and I am overwhelmed to see the impact they have brought about in higher education," said Krishna Kumar Negade, Vice President of Operations at De Montfort University Dubai. "Based on feedback from students who have enrolled through their platform, they provide one of the best state-of-the-art experiences through their initiatives and innovative approach," Negade added.
Till now, SecureMyScholarship has disbursed over $5.5 million in scholarships to students from over 25 countries. Over the past 12 months, the tech startup has been making huge strides to expand its presence across India, and today boasts support staff in Mumbai, Pune, New Delhi, Surat, Hyderabad, and Kochi. Students applying for university through SecureMyScholarship.com are not charged a single penny to realize their dream of studying abroad.
For students visiting SecureMyScholarship.com, they are first required to select the educational institutions that they wish to enroll into and submit an initial application through the SecureMyScholarship.com website. After a student has submitted their application through the website, the team will work with them to assist them in submitting their complete application to the university, securing their offer letter, and completing their enrollment. Additionally, the team assists students in filing their visa applications and preparing for their visa interviews, which is also completely free of charge for students. Along with this, the SecureMyScholarship team will do everything in its power to assist students in making the most of their university scholarship and reducing their financial burden to the greatest extent possible.
"The team at SecureMyScholarship has been very efficient and cooperative. They have been effectively bridging the gap between potential students and universities," said Nahid Afshan, Senior Manager for Admissions at Bits Pilani University, Dubai Campus.
If you have any objection to this press release content, kindly contact pr.error.rectification[at]gmail.com to notify us. We will respond and rectify the situation in the next 24 hours.